Most homeowners take immense pride in the way their yard looks to their neighbors and potential buyers. Unfortunately, managing tree services and tree care on their own can be a daunting task. Thankfully, with the help of a reliable tree service company, they can just sit back and let the professionals handle everything.
Reasons To Not Attempt Tree Services Yourself
Maybe you're wondering why you need to hire a professional tree service company rather than just doing it yourself. Well, there are several reasons, but here are the top four:
Safety – Professional tree care workers know how to properly use equipment and climb trees safely. They have the proper safety training and protective gear to work in high places. They also know how to spot dangerous branches that might fall or break unexpectedly. If you remove branches yourself without the right knowledge, you could get hurt or damage your home or property. Workplace injuries and deaths caused by tree care services have been on the rise since 2012. These jobs can be dangerous and even deadly, so if you don't have the necessary training, you should leave it up to the professionals.
Efficiency – Professional tree care companies know how to get the job done quickly, efficiently, and thoroughly. If you trim or prune a tree incorrectly, it could cause more problems in the future, which can be a serious waste of time, effort, and money. If you hire a professional tree care service, you'll have the assurance that the job is done correctly every time.
Guaranteed Results – Trees can often be unpredictable, which means that trimming or pruning them can be more difficult than it appears. If you choose to work with a professional, you'll have the assurance that you'll get the results you want, even if the tree is uncooperative.
Training & Experience – When you hire a professional, you can rest assured knowing that you're working with someone who has all the right tools, experience, and training to get the job done right the first time. Tree care services are trained in all aspects of tree care and know the best route to take should be. Caring for your trees is an important part of yard maintenance, but climbing trees can be dangerous, especially for those who aren't familiar with tree care. If you hire a professional service, you'll have the peace of mind that the job will be done by someone who knows what they're doing and has the right equipment to get the job done safely.
Tree care in the summer is important and can make all the difference when it comes to the health of your trees and the aesthetics of your property. However, when choosing a company to work with, a few important points should be taken into account.
Evaluating Tree Services Near You
Finding the perfect tree service company can take time and effort. To help make sure you make the best decision, consider these guidelines.
For instance, before choosing a tree service company, you should ask yourself these questions:
How long have they been in business?
Do they provide a free estimate?
Do they give written contracts?
Do they have a customer service number you can call?
How many years of experience do their workers have?
Do they have adequate insurance?
Do they offer emergency services?
Do they have the right equipment for the job?
Do they offer stump removal and grinding?
Do they have positive reviews from previous customers?
What kind of wood chips or mulch do they use?
Can they help with tree trimming?
Are they able to remove large trees?
And then consider doing these 8 things to make sure you make the right choice:
Reach out to a company with certified and trained professionals.
Check that the business is properly licensed and has liability insurance. Inquire about their insurance coverage if any damage should occur to your property and whether or not you would be responsible for damages.
Make sure the company gives a detailed estimate, including the price and all applicable fees.
Always compare quotes between companies to make sure you are getting the best possible deal.
Research any questions you may have about the tree service with the Better Business Bureau and see if any complaints have been lodged against them.
Make sure that the company has the proper equipment to perform the job safely.
Ask if the company will clean up after the job is completed.
Research prices in your area before requesting an estimate. To do this you can contact local tree companies or ask friends and family members who they have used in the past.
IBISWorld reports the US is currently home to over 129,205 tree service companies – meaning you won't struggle to find one to employ. If you take a look at the chart below, you will see that you do not have to rush into a relationship with a tree service due to shear quantity. To guarantee great results, take note of the advice provided here to identify a reliable firm for your tree care needs!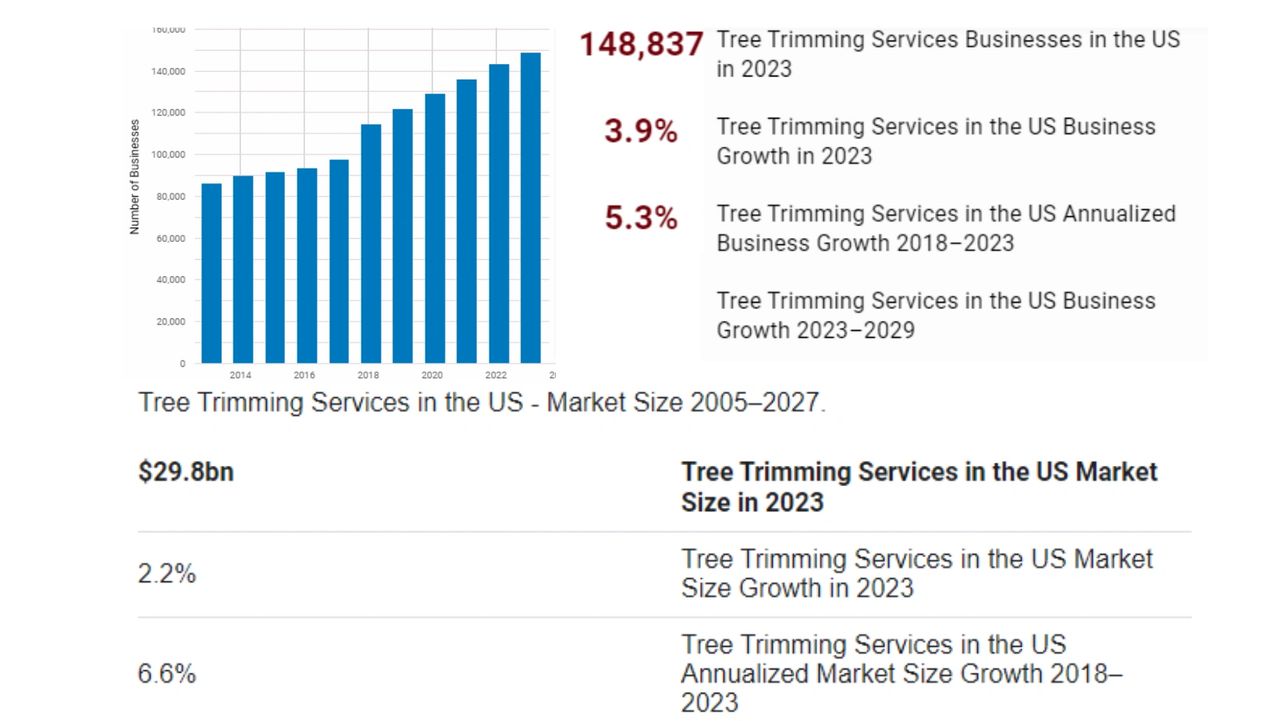 Types Of Projects To Call Tree Services For
But what types of services are available? Tree service companies offer a range of services such as:
Tree Removal
Tree Trimming or Tree Pruning
Stump Grinding
Land Clearing
Broken Limb Removal
Tree Cabling And Bracing
Arborist Services
Root Removal
Crane Services
Signs Your Tree Should Be Inspected
Additionally, there are tell-tale signs that your tree may need special attention, including these 7:
Drooping branches that may be too heavy or overgrown branches
Fungus or mushroom growth on the trunk or base of the tree
Missing or loose bark throughout the tree
Changes in the tree's growth patterns
Insect infestation
The tree is leaning too far
A tree damaged by lightning, wind, or another weather event
With this knowledge of how to know you need a tree service, the types of projects they take on, and proper research to find a legitimate tree service company near you, you can now be better prepared to hire a professional.
If you're noticing any signs of distress in your trees, get in touch with Scott's Treewurk – the experienced, knowledgeable local tree service company in and around Kennesaw. Our top priority is always to do what's best for your trees, and you can trust us to get the job done – be it tree removal, land clearing, or something else. Don't hesitate to reach out to us today at (678) 208-7336 or visit www.treewurk.com to schedule a call.